Back about 15 months ago, in the "ye olde days" of October 2014, I wrote a blog comparing home prices in Seattle to those in our "sister city" San Francisco. At a time when many people were wondering if Seattle's condo prices had peaked, I wistfully pointed out that compared to home prices in the Bay Area- our prices had a long way to go up. I postulated that given the similarities between the two cities, surely we can achieve similar prices. After all, we both have an active seaport, a vibrant hi-tech sector, a youthful demographic, and a great love of football. As I reflect back on this topic, I'm thinking that maybe we don't want to catch up with San Fran's exorbitant prices. Maybe we just want to be competitive with them, while maintaining the "affordability" edge over San Francisco. In this way, Seattle will be a much more appealing place to live for workers who might otherwise head to the Bay Area.
According to Zillow, over the twelve month period from October 2014 to October 2015, the median condo price in Seattle rose 14% to $389,000. During that same period, the median condo price in San Francisco climbed 11% to a staggering $1,100,000. Those prices compare with downtown Manhattan, a place I always considered one of the most over-priced parts of the country. (Truth be told, Washington DC and Alexandria, Virginia top the list as the lost expensive places to live in the USA.)
x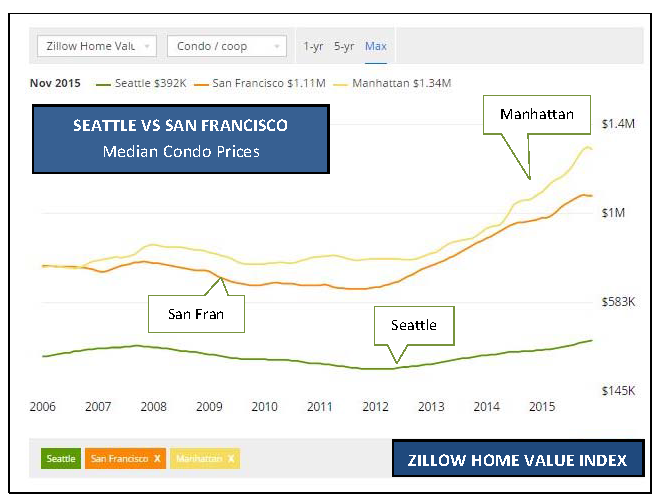 So here is my take on all of this. The Seattle condo market is well-positioned for strong price appreciation relative to the alternatives and that makes our condos a good investment. Our condo prices are affordable compared to the Bay Area and Manhattan, so if you are a hi-tech entrepreneur- MOVE HERE! And when you're ready to look for your condo options- CALL ME!
Lauren Gibson
Seattle Condo Specialist
Related Links