I just read a story online that says that the current bull market in stocks just reached 8 years old. Happy Birthday, Dow Jones! That would make this the second longest bull market since World War II. If this market survives another 17 months it could surpass the longest bull market ever, which ran from October 1990 to March 2000. It should be noted, however, that the sixth longest bull market started 2 ½ years later and ran for another five years, ending in October 2007.
Here is a graph showing the last bull markets.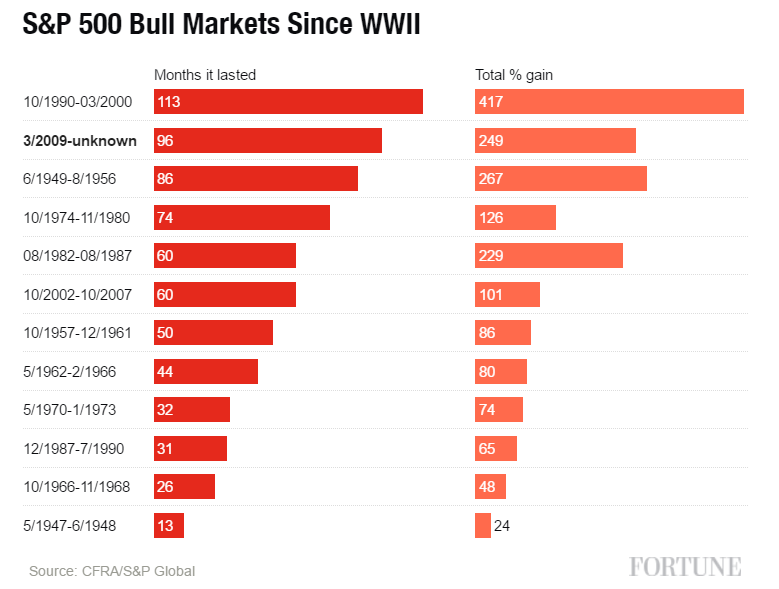 This news follows a more encouraging article that passed by my desk a few months ago. That article was written by a Harvard economist who was discussing a trend in real estate markets that they usually run in 18 years cycles. It's an interesting theory that has been researched back the turn if the last century. If this particular theory holds true then we would expect the current real estate cycle to run another nine years (from the 2008 to 2026). I like that news. I might like the market to be a little less frothy, but I am being careful what I wish for.
Despite whatever good news we can glean from these two stories, I cannot shake the nagging feeling that "this time will be different". We have a Great Disrupter in the White House . Who knows what sudden and rapid changes are headed our way arising from a trade war or other calamity? I'm just glad I'm not in the fortunetelling business 'cuz all I see are wild cards these days.
Links to both articles are below.
In the meantime, Happy Hunting!
Your Seattle Condo Specialist
Lauren Gibson
lauren@seattlecondohunt.com
Related Links